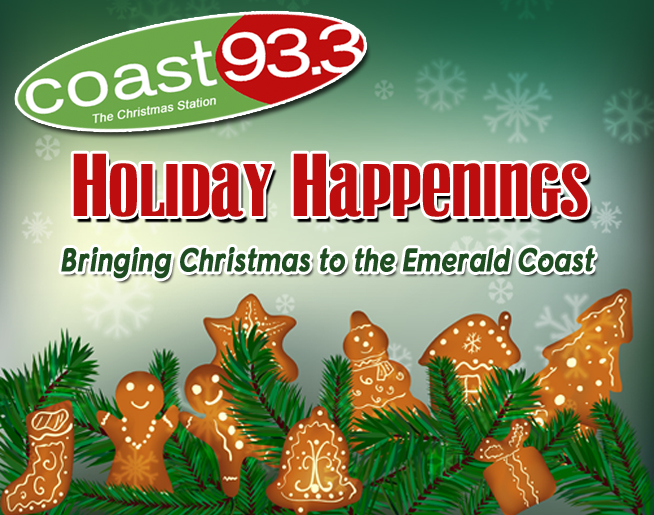 Experience the annual Magic Christmas in Lights at Bellingrath Gardens and Home. See dazzling light displays with 3 million lights as you stroll the garden estate and tour the beautifully decorated home. The estate is open nightly through January 4th, except Christmas & New Year's Day.
The City of Destin's 36th Annual Christmas Tree Lighting will be held at the Destin Community Center on Thursday, December 1st at 6pm. The outdoor event includes music performances, and a visit from Santa. Donations of one non-perishable food item is requested.
Crestview's Annual Christmas Parade, "Sweet Treats of Christmas" is Saturday, December 3rd. The parade takes place with the tree lighting at 5 p.m. followed by the parade at 5:30 p.m. on Main Street and ends at the north end of Main after the Courthouse.
The Town of Shalimar annual Christmas tree lighting ceremony is Saturday, December 3rd at 5pm with the lighting at 6pm. Join the countdown with the tree lighting in front of town hall and the lights in Marquee Park. Enjoy music from Megs Middle School and appearance by Santa!
Special Forces Association Chapter 7 presents the annual Jingle Bell Jog 5K/10K. It's Saturday, December 3rd at The Island Resort on Okaloosa Island and includes a Kids Fun Run! Plus awards for the best costume.
Emerald Coast Theater Company's Teen Players present A Charlie Brown Christmas: Live on Stage. Performances are December 3rd and 10th at 9:30am and December 4th at 2:30pm at the Grand Boulevard Theater.
The 7th Annual Niceville Ugly Sweater Run/Walk is Saturday, December 3rd at Hurricane Grill & Wings in Bluewater Bay. The 5K is open to all ages at 8am, with a 1 mile fun run for kids 12 & under. Proceeds benefit the Niceville High School Track & Field Program.
Pics with Pups & Santa is Saturday, December 3rd from 9 to 2 to benefit Freedom House. Bring yourself, your favorite pet, and your family to get your photos with Santa for the holidays!! It's 10 dollars per photo at the Niceville Dog Park.
Navarre Beach Area Chamber of Commerce "Christmas In The Park" is Saturday, December 3rd from 9 to 4. There's a Jingle Bell Run/Walk at 8am. Plus a Merry Market with local arts and craft vendors, and the Christmas parade at 1 beginning at the Navarre Library.
The Jingle Jet Movie Matinee is Sunday, December 4th at Suds-n-Cinema, sponsored by ERA American Real Estate. See the movie ELF on the big screen at 2pm with all the ticket money going to Jingle Jet 2022. Buy your tickets and get more information here.
The City of Fort Walton Beach Christmas Parade is Monday, December 5th at 6:30 p.m. This year's theme is "Nursery Rhymes & Fairy Tales." View the parade all along Eglin Parkway from First Street to Hughes Street.
Fort Walton Beach Police Department's Winter Wonderland is Friday, December 9th from 6pm-10pm. Entry to the wonderland is one new, unwrapped toy for Toys for Tots. Stroll down Pallet House Land, drink hot chocolate, meet Santa and your local favorite officers.
Join Sinfonia Gulf Coast for "Holiday Pops featuring The Doo Wop Project" on Friday, December 9th at the Destin-Fort Walton Beach Convention Center. The entire family will enjoy this performance of holiday favorites and timeless classics.
The Fort Walton Beach Community Chorus presents "Keep a Little Christmas in Your Heart," at Fort Walton Beach Civic Auditorium. Enjoy the annual holiday concert performance on at 7pm on Friday and Saturday, December 9th & 10th and Sunday, December 11th at 3pm
Reindeer Dash 5K/10K on Saturday, December 10th at 8am. The run is through downtown Fort Walton Beach with an awards ceremony afterwards at KC's Sandbar. The event benefits Toys for Tots
 The Niceville – Valparaiso Community Christmas Parade is Saturday, December 10th at 10am, on Marc Smith Blvd, sponsored by the Rotary Club.
Don't miss Breakfast with the Grinch on Saturday, December 10th at Good Shepherd Lutheran Church. Come & Go as you please from 8:30 to 10:30am and enjoy pancakes with the Grinch. Admission is $5 and benefits Good Shepherd PTL Projects.
The City of Destin's 38th Annual "Elf on the Shelf" Christmas Parade is Saturday, December 10th at 10 am. The floats will start at the Downtown Destin Shopping Center and travel west down Harbor Boulevard to Stahlman Avenue.
The Heritage Museum of Northwest Florida's Yule of Yesteryear is December 10th! Crafts, food and entertainment, letters to Santa, plus last-minute Christmas gifts, from 10 – 4 at the museum, in Valparaiso.
The Gulf Breeze Zoo 4th annual Christmas ZOObilee is December 10th and 11th from 11-3 at the zoo. The fun includes live music, holiday market, The Grinch & Santa, and so much more around the entire zoo.
Billy Claus, Santa's warm weather-loving brother, pays a visit to Lulu's in Destin on Sunday, December 11th. Stop by from 1-3, get your photo taken with Billy, share you wish list, and enjoy fun activities…as well as Storytime with Lucy Buffett.
Emerald Coast Theatre Company performs "Christmas Cabaret on the Boulevard" Musical Revue on the stage at Grand Boulevard on December 14th at 7:30pm and Saturday afternoon, December 17th with a 2:30 matinee.
The First Baptist Church of Fort Walton Beach presents the annual "Live Nativity" December 15th through December 21st from 6 to 8:30 pm at the corner of Church & 2nd Street. There will be a drive-thru and walk-through version of this year's presentation. Visit the church website for more information.
The Gulf Breeze Zoo 4th annual Christmas ZOObilee is December 17th and 18th from 11-3 at the zoo. The fun includes live music, holiday market, The Grinch & Santa, and so much more around the entire zoo.
Join the Emerald Coast Science Center December 21st through 23rd for Winter Workshop activities from 10am to 2:30pm each day. The themes include Science Meets Magic, Holiday Ornaments and the Great Ozoclaus (Oz-Oh-Claus). Get more details at ecscience.org
The 7th annual Pelican Plunge is on New Year's Day at 10:30 am at the Boardwalk on Okaloosa Island. Prepare to plunge into the gulf with 100% of the proceeds benefitting the children of the Emerald Coast Foundation.
The 11th Annual Penguin Plunge & Paddle is New Year's Day at Juana's Pagodas in Navarre. The paddleboard adventure course is at 12:30, the plunge is a 1:30pm. The event benefits Healing Paws for Warriors.